Rowan O'Riley is a Grand Prix dressage competitor and sponsor of elite US dressage and para-dressage competition.
"I am fortunate to be able to participate in this sport at several levels. My own skill level, as an adult amateur, and also the the elite level through my sponsorship of top riders Rebecca Hart and Heather Blitz. I also feel it is important to sponsor shows and classes for other riders—I was taught that when you get where you're going you should turn around and help the next one in line."
Competitor
Adult Amateur dressage competitor living and riding in Massachusetts and Florida. Currently training with Rita Brown.
USDF Bronze, Silver and Gold Medalist.
Rowan currently competes two horses at the Grand Prix Level.
A 15 year old Baden-Wurrtemberg
Rowan and Sini Santos were Adult Amateur 2018 Year-End Champions at Grand Prix in the New England Region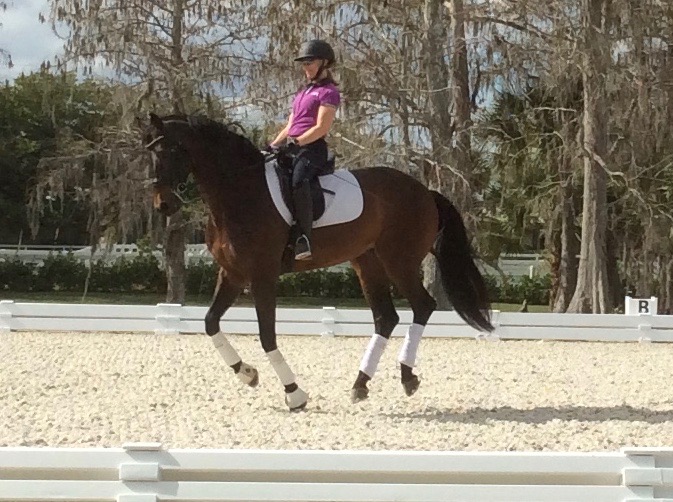 A 11 year old Danish Warmblood
Ripline has been shown through the Grand Prix level with his past owner. Rowan is excited for what the future holds for the two of them.
Sponsor of Elite Dressage Competitors
"It is thrilling to own horses that can participate in elite-level competition. It gives me a window into the top tier of dressage sport and a way to support competitors who have the skill and experience to become part of a US team."
Since 2018, Ms. O'Riley has been sponsoring international competitor and trainer Heather Blitz on Semper Fidelis, a 2008 mare by Sir Donnerhall and Welt Hit II. Heather Blitz Blitz won team gold and individual silver in the 2011 Pan American Games, and was a part of the U.S. Olympic team for the 2012 London Olympic Games
From 2015-2018 O'Riley sponsored the horses Mane Stream Hotmail, Mane Stream Belstaff and Semper Fidelis in elite dressage competition in Florida and Europe.
Since 2018, a Ms. O'Riley has sponsored of one week of Grand Prix classes and one week of Small Tour CDI classes at the Adequan Global Dressage Festival.
Sponsor of Elite Para Dressage competitor Rebecca Hart
"Rebecca Hart is a Rock-Star competitor. She has competed in 3 Para Olympic Games and 3 World Equestrian Games. I admire her riding skill and her strategic approach to Elite sport."
In 2018 Rebecca was the first US ParaDresseage Rider EVER to win a medal at the World Equestrian Games (the bronze) and also the first US Para Dressage Rider EVER to win 2 medals when she won the silver.
Rowan owns the two top horses that Rebecca competes: El Corona Texel and Fortune 500. In 2018 both horses qualified for the US Para Equestrian team at the World Equestrian Games.